https://en.wikipedia.org/wiki/Synanthedon_myopaeformis In dutch called appelglasvlinder. It seems to be a moth but due to it's shape able to operate during the day. According to some internet sources it has a wasp like figure and that should of most predators. At first I had to look close to spot it had 4 wings (or two pairs). Flies do not. Also the transparent wings didn't make it obvious it was a butterfly/moth.
The picture to the left shows the same "moth" however not close up. Notice the pairs of wings are not visible.
I still wonder why it's completely black with a red band. It's more noticeable this way.
Don't forget to look at it's family tree: https://en.wikipedia.org/wiki/Sesiidae
It's whole class of moth's trying to look and act like they are dangerous buggers. Hehe quite interesting and that all from one little bug that made a mistake and flew through my open door on a hot summers day. By the way, I set it free after taking pictures.
EDIT:
Surfing some more I came across this picture:
Taken from this website: http://www.ahw.me/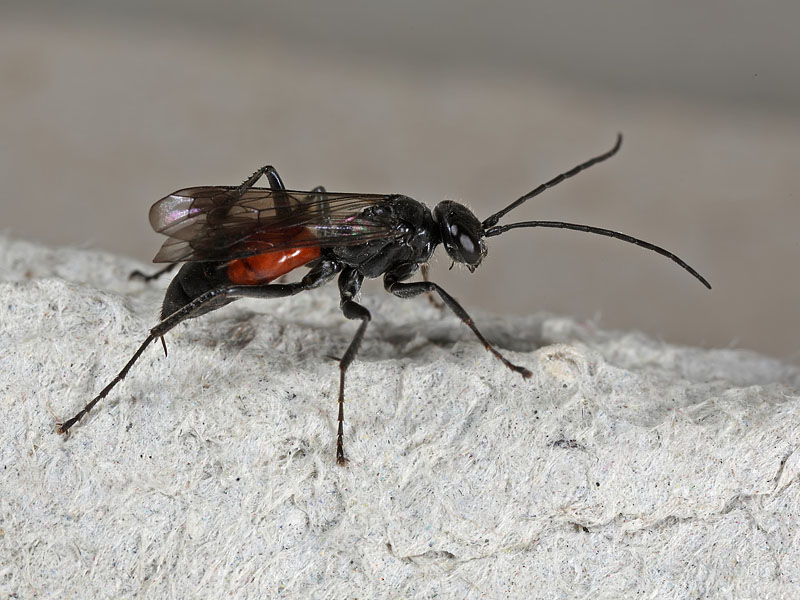 This bug is called: Tuinspinnendoder (Caliadurgus fasciatellus) witch translates to: "Gardenspiderkiller". The colours look the same. So it's a great mimic after all it seems.